Nutmeg News
We moved into our new purpose built premises in beautiful Swaledale shortly before Christmas 2012. It looks a bit bare at the moment - no plants outside and no signs up (they have to be approved by the national park). But many of Meg's pieces are now on display inside, together with our kits and supplies of perforated paper and the full range of DMC threads. We will add more lovely things during the course of the year, so do come and see us at The Nutmeg Gallery, Unit 14 Reeth Dales Centre, Reeth, Near Richmond, North Yorkshire DL11 6SP.
We are open from 10am to 5pm Monday to Friday. But if you are making a special trip do ring and check on 0174 888 4926. We may also be able to open by appointment at other times if you let us know you are coming!
Meg has been working hard on some new pieces. The first is "Cottage Row" - a row of cottages complete with back gardens including a greenhouse and a shed.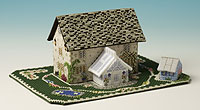 The second is "The Old Rectory" which also includes a lovely garden.
Either would make a great project for the more experienced stitcher.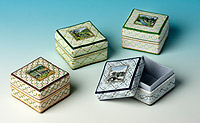 Also just added are a range of boxes with Yorkshire Dales scenes. Each box represents one of the four seasons and has a tiny picture on the lid depicting a Dales village. Another scene is worked on the inside of the lid and wording is stitched around the inside of the lid rim - commenting on the season represented by the box.
The other exciting news is that the Tour de France is coming through our village in 2014. So if you have a cycling mad partner or relative, that is another reason to come and see us.
All good wishes - Mike and Meg Evershed

The Nutmeg Company
Unit 14, Reeth Dales Centre, Reeth, Nr. Richmond, Yorkshire DL11 6SP
The Nutmeg Gallery is open from 10am to 5pm Monday to Friday or by appointment