3-D Cross Stitch Is Easy!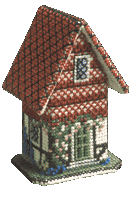 The Nutmeg Company offers a new dimension for the stitcher who wants to try something different. Choose from weekend cottages, miniature houses and shops, Christmas decorations, the Keepsake range of trinket boxes and vases, paper cross stitch gift bag and gift box kits, or greetings cards worked on stitching paper. We also have packs of plain perforated paper for your own projects, as well as books and project folders.
We would like to thank all our customers for their support this year and wish them a happy Christmas.
Orders for delivery by Christmas should be placed as soon as possible as the last posting dates are coming up fast. For the UK the last posting date is Friday 20th.

But please don't leave your order to the last minute – if the kit you want is out of stock we may not be able to produce another one for you in time to catch the post.
Orders received after Friday 20th December will be sent out early in the New Year.
We're on Facebook: come and visit us for all the latest news.
Special Offers: we offer discounts for purchases of two or more cards of the same size, and for two or more Weekend Cottages or Miniature Shops.
Learn more about 3-D Cross Stitch and see pictures of the model of Windsor Castle. Read our News page for all the latest information on new products and activities.
If you have any ideas for 3D Cross Stitch kits please email us: meg@3dcrossstitch.co.uk
As seen in
The Internet Craft Fair

The Nutmeg Company

Unit 14, Reeth Dales Centre, Reeth, Nr. Richmond, Yorkshire DL11 6SP

The Nutmeg Gallery is open from 10am to 5pm Monday to Friday or by appointment

Meg Evershed
is an associate of
The Cross Stitch Guild