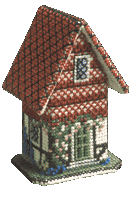 The Home of 3-D Cross Stitch
The Nutmeg Company offers a new dimension for the stitcher who wants to try something different. Choose from weekend cottages, miniature houses and shops, Christmas decorations, the Keepsake range of trinket boxes and vases, paper cross stitch gift bag and gift box kits, or greetings cards worked on stitching paper.
We also have packs of plain perforated paper for your own projects, as well as books and project folders.
We're on
Facebook
: come and visit us for all the latest news.
After a successful trial period, we have decided to keep our postage and packing rates at £2 for orders for delivery in the UK and £4 for orders for delivery outside the UK. So whether you include one item or one hundred items in your order, this is all you will pay.
Learn more about 3-D Cross Stitch and see pictures of the model of Windsor Castle. Read our News page for all the latest information on new products and activities.
Come and see us at Lacemaking, Quilting and Needlecraft Christmas Fair on Saturday 5 December 2015 at Cranmore Park, Cranmore Road, Shirley, Solihull B90 4LF. Or see our Shows page for details of other events we will be attending.
If you have any ideas for 3D Cross Stitch kits please email us: meg@3dcrossstitch.co.uk

The Nutmeg Company
Unit 14, Reeth Dales Centre, Reeth, Nr. Richmond, Yorkshire DL11 6SP
The Nutmeg Gallery is normally open from 10am to 5pm Monday to Friday and 2pm to 5pm on Saturday
As seen in the Internet Craft Fair. Website by Loud-n-clear.com Ltd.